About
Welcome to Father Henri Voisin School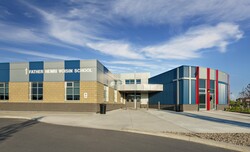 We are a Kindergarten to Grade 5 school that first opened its doors in the fall of 2014 in Red Deer, Alberta. As a Catholic School, we permeate Christ and His teachings into the entire curriculum and the life of our school. We strive for academic excellence within a safe, caring and faith-filled environment. We celebrate each child as an individual and encourage each child to develop his/her God-given gifts and talents.
Students of all faiths desiring a quality Catholic Education are welcome.
Our school serves families living in Garden Heights, Evergreen, Clearview Ridge, Clearview, Timberstone, Timberlands, Rosedale and Deer Park (north side of 39th Street).
View our school boundary map here.
Please see the attached map showing busing eligibility/ineligibility.
Father Henri Voisin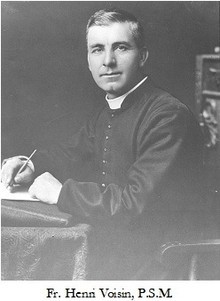 Founder of Catholic Education in Central Alberta
On November 11, 1908, a petition was sent to the provincial minister of education to create a separate school district in North Red Deer. On January 8, 1909, the North Red Deer Roman Catholic School District #17 was formally established. The first board of trustees consisted of Father Voisin, Joseph Alex Martin and Aubert Wiart.
The Fathers of Ste. Marie de Tinchebray built a large presbytery, which would serve as a residence for the priests and as the administrative centre for their missionary work.
Father Henri Voisin, the head of the order, also persuaded the Filles de la Sagesse (Daughters of Wisdom) to build a convent, which would serve as a boarding school for the children of the community.
When classes started in 1909, there were 18 pupils. By the end of June, 27 pupils had registered. At the start of the next term, enrollment increased to more than 50.
One of the biggest attractions was the boarding accommodations that the Sisters offered. Particularly for many families from rural areas, this meant that there was a safe, supervised place where they could send their children to get an education. 
By 1912, the student population had grown so much that a large three-storey addition was constructed on the west side of the Convent. Meanwhile, the Tinchebray priests had been operating a school for young boys at their presbytery on the North Hill. In 1914, a new building was constructed for that boys' school, northwest of the Convent. This became known as St. Mary's Apostolic College.